---
This page is about Randy Rhoads himself and Jackson guitars he owned. For Randy Rhoads guitar models, see RR.
---
(Brief biography added here)

The best book to learn about his career, playing styles, his final days and his fate would be "Off the Rails - Aboard the Crazy Train in the Blizzard of Ozz", written by Quiet Riot/Ozzy Osbourne bassist Rudy Sarzo.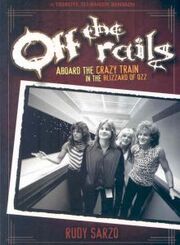 Polka-dot V, built by Charvel employee Karl Sandoval

DiMarzio PAF and Super Distortion P.U.
Fender bridge

1st Randy V (White Prototype), built by Grover Jackson and Tim Wilson
2nd Randy V (Black), built by Grover Jackson, Tim Wilson and Mike Shannon
Grover Jackson interview on the story about Randy Rhoads
External links
Edit