7
basic info on jackson p-ups, such as;

how they were made
how to identify em
difference between USA/import models
etc
Very early Jackson pickups (-'84)
[
edit
|
edit source
]
One early set of factory pickups were made either as custom pickups, or before the foil decals were delivered. The pickups were labeled "Neck" and "Distortion" in a handwriting often seen in the factory logs. These tapes were applied before potting and were protected with wax.
USA production models ('80s-)
[
edit
|
edit source
]
By very late 1984 Jackson had began manufacturing their own brand of pickups in-house. By late 1986 Jackson expanded the pickup line to include high output pickups and low impedance circuits both in their guitars and available as replacement. If not all, most of these were designed by a engneer by the name of Paul Gagon.
The initial models were the J-100 single coil and J-50 humbuckers (J-50B for bridge and J50-N for neck positions). From the top these pickups were identifiable by their black pole pieces and adjustable screws. Underneath they had a foil "Jackson Pickups, Made in USA" sticker applied to the bottom before potting. Sometimes it just says "Jackson Pickups" and "Made in USA" part is missing.
Japanese production models (late '80s - '90s)
[
edit
|
edit source
]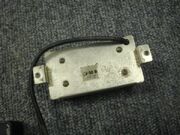 From the late 80's import Charvel/Jackson started using different kind of pickups. From the top these pickups were identifiable by "Jackson" logo, along with their black pole pieces and adjustable screws. They don't state "Made in USA" anywhere anymore, thus it is safe to assume these were made in Japanese factory somewhere, possibly by Gotoh Pickups.
On foil decal prints of these pickups, often "D" were added handwritten to their model numbers, so that J-80 would be DJ-80 and such. Some say the "D" stands for "(Seymour) Duncan" since these pickups' wires use the same color-code as Duncan, but the "D" next to the model name stands for Domestic does not allude to Seymour Duncan! Sometimes these model numbers were completely handwritten also. "9.8", "10.2", "10.8" and such numbers attached below model numbers indicate pole piece pitch distance in millimeters. These translate as following;
Millimeters
Inches
Each string
Low E to high E
Low E to high E
9.8
49.0
1.930"
10.2
51.0
2.000"
10.8
54.0
2.125"
In mid '90s pickups with Gotoh Pickups' emboss on their base plate on the back, start appering.
CVR2 covered passive pickups and such, used for made in India JS series.
Vintage Re-issue
Original Jackson Humbuckers
CVR-2
J-50B
J-50BC
J-50N
J-50M
J-55
J-65
J-70
J-75
J-80
J-80C
J-85
J-90
J-90C
J-92C
J-95
Community content is available under
CC-BY-SA
unless otherwise noted.